::: WELCOME TO THE WOLFENSTEIN 3D DOME! :::
Wolfenstein 3-D News - maintained by Brian
Earlier News
JUL - AUG 2002
AUGUST 2002
Aug 31: Future Wolfenstein TC's
Here's a list of Wolfenstein TC's that Ryan de Haast will be creating in the future:
Returning Evil (Rising Evil III)
Pray for B.J (Joint TC between me and Wes)
Simpsonstein
More to come...
Wolfenstein 3D Dome Updates - Help Needed
Since the start in January this year, the Dome has had many regular visits. We of course want to keep the beat going. So a renovation is planned. And for that we need YOU! What you can do? Simple. Make an email to Brian Lowe describing what you think should be added to the Dome, or should go immediately away from it, of course.
The reward for this is of course - a better site. No matter if you think your idea isn't good enough or probably has been mentioned by someone else - send it in! All feedback is welcome! We need you to make the Dome better. Thank you.
Hitler's Attack Update
Patrick Grey sent the following email regarding the upcoming add-on 'Hitler's Attack':
"My first week of school has been pretty good, but I don't have much spare time on school days. I have Monday off, and so do my parents, however. This means I'll probably get about 3/4 of a map done. However, the ten-level release probably won't be until September 14 now. I'm pretty much to the schedule, so there is a good chance that this will be it's last delay."
Aug 30: Raid On Wolfenstein Released
This is the first set of levels by Bryan Banfield and is for Wolf3D shareware v1.4. There's no new graphics but all 10 levels are well designed, quite extensive, and similar in style to the original game. Click here for the download. All files are included.
Aug 27: August 2002 Dome Award Announced
This month's Dome Award goes to AReyeP for his his texture library. It's at AReyeP's and MCS's Wolfenstein 3D site. Congratulations, Steve!! The library has a wealth of hints and tips on creating and importing graphics. Please remember to give credit though if you use any of the material.
James Ingham Email Update
James tells me his email address at james_ingham@msn.com is now working. His other email address at 'wolf3dgalaxy@zzn.com' doesn't work anymore.
Pineapplestein 2 Posted
This TC came out early this year and was sent in by Patrick Grey. It has levels made with the Creator program but has a large number of other changes done by Kody Dagley, Daniel McHone and Erran Newton. Quite a good 'fun' set. Click here for the download.
Aug 24: New Site/Add-on
Erick Frost has a new site called The Luftwaffer II Headquarters. Not much is working yet, but it should be sorted out soon. Erick is also working on his first add-on called 'The Luftwaffe'.
Hitler's Attack Update
Progress on Patrick Grey's 'Hitler's Attack' has been going well, partly due to Patrick's parents helping out with the levels. Two more levels have recently been done and a ten level version should be released in about 2 weeks.
Aug 22: Full Screen Tutorial Posted
Ripper tells me he's posted a tutorial on how to add a full screen mode to the Wolfenstein 3D engine. You'll now be able to enjoy the game without any borders!! The tutorial, and screenshots, are at CHAOS Software.
Aug 21: Operation Scorpion 2: The Legacy (v1.1) Released
Tornado has released a new version of his 'Operation Scorpion 2' TC. This one has more new graphics and the maps this time come from 'Wolfen 60'. You can download it here.
Aug 17: Prisoner 666
JJ's next project will be 'Prisoner 666'. Here's a pic JJ sent me...
Aug 16: Ryans Gaming Club Move
Ryan's Gaming Club has moved to a new url. As previously it covers Wolf3D but also other games such as Bio Menace, Doom and Quake etc. It's now at Ryans Gaming Club.
Aug 14: Java FPS Game
Patrick Gray has found a small FPS shooter game called 'Scared' on 'sega.com' that you can play online. Patrick has provided a url redirection at http://www.scaredfps.cjb.net. Below is a pic of the opening scene.
Aug 13: New Wolf3D Mod
Joshua Monroe and his mod team 'Meltdown Entertainment' are working on a new Wolf3D mod titled 'Barcode Prisoners'. All, and that means ALL, of the graphics, sounds, the EndArt, HelpArt, and the EXE will be changed. Here are the features the full game will have:
OpenGL support
Mouse look (side to side, not up or down)
Custom control settings
Crosshair
*MAYBE* a random mission generator
HelpArt and EndArt changed
Stealth mode, where you are unarmed and you have to sneak past guards, and when you kill them an alarm sounds, alerting all of the guards in the level to your presence. (This is very easy to do, just have deaf patrolling guards, but don't put any floor codes into that level)
Body Armor
Different Ammo Types
7 weapons: Lead pipe, Pistol, Hardballer (Magnum), AK47 Assault Rifle, MK4 Minigun, Throwing knives and Shotgun
Some screenshots will be released soon. Thanks Joshua for all that info, and good luck with the mod.
Hitler's Attack Update
Progress on Patrick Grey's 'Hitler's Attack' has been slow (just a half level map completed in a week). The 10 level version is not now expected for another 5 weeks.
Aug 12: James Ingham Email Change
James tells me his e-mail address 'webmaster@wolf3dgalaxy.zzn.com' is not in use any more and 'jamez_ingham@msn.com' is temporarily not in use. A new address will be posted in a few days.
Outside Atmosphere Tutorial
CHAOS Software have released their second Wolfenstein 3D coding tutorial "Outside atmosphere", which allows you to have a star sky with optional falling rain or snow. This makes it possible to create really nice outdoor scenes!
Visit CHAOS Software for more screenshots and the tutorial!
Aug 10: Polish Vswap Editor
Kuki has sent me a Polish VSWAP editor. It can't modify objects, but for wall editing it's far better than Wolfedit, because it has some cool filters, rectangle drawing tools and a clipboard. And it can also play sounds, though you can't modify them. It's not compatible with Vswap's previously edited with Floedit. It's called W-EDIT v.1.2 and dates from 1995.
On a different note, Kuki tells me that the language used in the 'Weird Map Editor' (see Aug 6) is 'Slovak'. Thanks for the info Kuki.
WolfSite Updated
Wolfsite (maintained by Guillermo Buteler) has been updated recently and features levels and links, plus details of Guillermo's add-ons. Further modifications are also underway, including a page on level design and more add-on downloads.
Burgerstein Released
Ross Williams has released a new shareware v1.4 set called 'Burgerstein'. Characters are replaced with burgers, hotdogs and soda cups. There are seven new levels. All files are included. Click here for the download.
Area 51 Renamed
Wes Desjardins next add-on 'Area 51' (see Aug 5) is to be renamed, maybe to 'Area 511'. It was pointed out that Luke Strauman has already used the title 'Area 51' in one of his add-ons.
Aug 6: Weird Map Editor
Millward sent me a really weird version of 'Mapedit' he found recently. The map and object definitions plus some other instructions are in another language, maybe an East European one. It's an early version of Mapedit but it works, at least with the full version. You can download it here.
Creator Maps No Longer Accepted
Following several complaints about the number of creator made add-ons we've posted recently, we've decided not to accept any more 'maps only' games made with the program. Any add-ons with creator made maps that have a substantial number of other changes will continue to be considered.
Aug 5: Upcoming TC's
Wes Desjardins is currently working on a new TC called 'Area 51'. Another TC is planned later with Ryan de Haast called 'Pray For BJ'.
Aug 3: GORE Released
This shareware 1.4 set by Ross Williams has 7 new well designed levels. Set in the future, there's a number of new graphics not seen elsewhere, new sounds and many title screen changes. All files are included. Download it here.
Halls Of Darkness Released
Sixty new levels made with the Creator program by Patrick Grey. As with other map sets made with Creator they are predictable but OK. Download it here. Needs the registered set to play.
Infiltration Released
Eight well designed levels by Paul Rawski (SilverIce). There's a number of new graphics and sounds not seen elsewhere, plus title screen changes. The storyline is set in Seattle, 1995 - you can read more in the enclosed text file. Don't put 'Mapedit' in the same folder or the files will corrupt. All files are included. Download it here.
Aug 2: Hitler's Attack Update
Patrick Grey tells me just one new level has been added during the last couple weeks, but a ten level update should be ready within a month.
JULY 2002
July 31: Day Of The Chaingun Released
Ross Williams has released his shareware v1.4 add-on Day Of The Chaingun. There are six new levels, plus a number of graphics not seen elsewhere. There's also many title screen changes. The levels are well designed and of a fair size though not extensive.
Also available are two of Ross's earlier shareware v1.4 add-ons: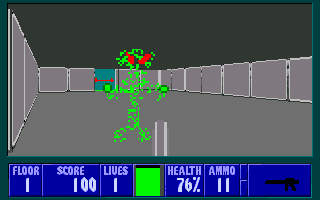 These 2 add-ons have 8 levels each, and the design is OK, though not as well developed as in 'Day Of The Chaingun'. Both also have a number of graphics not seen elsewhere, plus changes to the title screens. All 3 add-ons have 'all files included'.
Ross has a website called Rossweb Index and News. Check out 'Ross's Editing Site' which has info, links and pics on Wolf3D and some later id games.
NewWolf v0.6 (for OpenGL) Released
DarkOne has released a new version of 'NewWolf'. It's available from his site called NewWolf - Wolfenstein 3D For OpenGL. Also available are several utilities including 'IMF Tools' (for adding sounds), and a colour palette convertor.
Gottspear Update
Bobby Bucksnort tells me the levels are all done for 'Gottspear', all that remains is some final editing of object placements on some of the maps and a testing session. It's estimated at 10 days or less to the release date. Meanwhile there's a read me file available which will be included with the TC. You can download it here.
July 29: The Blitzkrieg Screenshot
Zach sent me the following screenshot from his latest TC 'The Blitzkrieg'. Also, he'd like to remind everyone that 'PV' is NOT cancelled.
July 28: Scarystein (v2.0) Released
JJ has released a new TC version of 'Scarystein'. Changes include new ceiling colours, episode names and extra ammo/health, plus there's a challenging new Christmas level on episode two. You can download it here.
Sam Feichter Email
Here's an email received today from Sam:
"Howdy
I have a new section on my site called 'The Dumbsmack'. Please visit it. It is pretty much just my friends (and, every once in a while, me) doing stupid crap. If you have any ideas for us to do, please email me at Samiam5446@msn.com or e-mail the Dumbsmackers at Dumbsmack12@yahoo.com.
By the way, Castle of Doom is almost finished. Give me some time to send it to Brian over here, and you will get a lot of castle and doom.
Sam Feichter"
The Invasion Released
Here's another set of maps made with the creator program by Patrick Grey. The levels are obviously predictable but they're not too bad. Bosses have been kept to a minimum. You can get it here. Needs the registered set to play.
July 27: Floedit v2.0 Started
Flo tells me he's started work on a new 'Floedit' version. New features should include:
IMF playback
EndScreen AND Font editing (=100% of VGAGRAPH decoded!)
Already released with FE 1.99 alpha are:
Fixed brown-to-black bug in map bmp/printed map
Window now resizeable
Flo's site is at Wolfnode.
Dome Award July 2002 Announced
The July 2002 Dome Award goes to Martin Krysiak for his TC 'Zero Hour'. Not only are there lots of good graphics and source code changes but the quality of the levels is good too. For those who haven't downloaded 'Zero Hour' yet, you can get it here.
July 23: Nat_W3d v1.4 Released
Andy Nonymous sent this 1.4 version of the 'Nat_W3d' add-on released yesterday. Andy tells me that the author was Nathaniel Rudiak-Gould. The story behind these levels is that they were "withdrawn" from circulation after Apogee asked that people don't edit the shareware version (see FAQ v.4.20). Nat later included these levels in his famous 'Temporary Insanity' levels. You can get 'Nat_W3d v1.4' here. Needs s/ware Wolf3d v1.4 to play.
Wolfenstein Cabin Links Fixed
Ryan de Haast tells me the following links on his Wolfenstein Cabin site have now been fixed:
Rising Evil TC
Rising Evil Map Editor
Rising Evil Source Code
July 22: Sword Of Light Released
Wes Desjardins who made 'Astrostein 2525' has now released the TC Sword Of Light. It has Spear graphics/sounds and 19 new levels. The first is quite mazy. The layout of most other levels includes a lot more rooms and the quality is good.
Ryan de Haast Email
I received this email today from Ryan:
"I won't be busy with Wolfenstein, my site, and my project because at the moment I've got to do some heavy studying. My final and prelim exams are just around the corner and I need to pass them, so the creating of 'Double Trouble' has currently been put on hold, until the end of November.
Ryan de Haast"
Nat_W3d Released
First of two shareware sets sent in by Patrick Grey, both date from 1992 but have not been available on The Dome before. This one Nat_W3d has 10 very extensive levels and they are well designed. For those who like mazes, there's a pretty large one on the secret level. The author is Nathaniel Rudiak-Gould. Needs s/ware Wolf3D v1.0 to play.
Ryan Steinbruner Email
Here's an email from Ryan Steinbruner regarding beta testing:
"I need some people to test Raw Meat version 2...
It will have:
1. a lot more graphics
2. ALL new sounds.
3. ALL new enemys and bosses.
4. new music.
5. crosshair.
6. will have all 6 episodes (does not mean 60 maps)!
7. new ending.
8. a READTHIS (maybe)!
9. doors open and close different!
10. backround image on menu.
11. pc13 screen is in full screen.
12. a better status bar.
13. only 1 animated object (using 8 frames)!
14. chainsaw.
15. people (not enemy's) walking around!"
Thanks Ryan for the info. Please email Ryan at wolf3d_boy@yahoo.com if you want to help out.
New11 Released
The second of the two shareware sets sent in by Patrick Grey, this one is by 'Ideas From The Deep' and is called New11. There are 9 levels. What's there is done well but many of the levels could be developed further. Check out the enclosed read me file before running the game. Needs s/ware Wolf3d v1.1 to play.
July 21: Scarystein Released
JJ has released a 5 level demo of 'Scarystein'. There's a new nasty looking Hans Grosse and there's other graphics and sounds changes. I helped with some of the levels. You can get it here. Needs the registered set to play.
July 20: Hitler's Attack Progress
Patrick Grey tells me his 'Hitler's Attack' add-on is progressing slowly but it's not been cancelled. Five maps are done (including the three in the demo). It'll be updated at the 10 level mark which should be in about three weeks.
It'll then be updated every time 10 more levels are completed.
July 19: Operation Scorpion II: The Legacy Reposted
Patrick Grey has kindly pointed out that the zip posted on July 16 didn't work. I've now reposted the set and hopefully this time it will be OK. Download it here.
Scarystein Desktop Theme
JJ sent me a Desktop Theme which includes a screenshot from the upcoming add-on 'Scarystein'. You can download it here. The add-on has 2 levels and a number of graphics finished thus far. Here's a pic I made from the opening level.
July 16: Operation Scorpion II: The Legacy Released
Tornado sent me his new TC 'Operation Scorpion II: The Legacy'. There are some new wall designs and other graphics, plus some sounds and source code changes. The levels come from my 'Wolfbel2' set but they blend well with what's new. Download it here. Further changes to the 'vswap' are planned.
New Game Design
Dan86 sent me the following email:
"I have a new game design idea that I would like to see put into action. I would like to have the option of choosing the whether the player can be a good guy or a nazi. If the player chose nazi, the enemy would then be the emanciated prisoners roaming throughout the castle. Call it 'Stalag 13' or maybe 'The Final Solution' (redo).
I guess the purpose of this game would be to destroy as many of the prisoners as possible.
Dan."
July 14: Zach Grounded
Here's an email Parafriction received from Zach Higgins.
"I've got some bad news. I recently received my second semester report card and frankly my dad hated it. In fact my dad has me grounded from the PC for 9 weeks!!!!! Even more, in fact I'm not even supposed to be on now. So you won't hear from me until 9-15-02 <SIGH>
Take Care,
Zach"
July 13: Dobaysoft's Wolf3D Level Pack Released
This suite of maps sent in by Patrick Grey has 9 new levels (e1l1 thru e1l5, e2l1 thru e2l3 and e3l1). They are by Dobaysoft. The level quality is mostly very good, though there are times when an odd wall looks out of place. Coding tricks like invisible doors and guard statues have been used on some levels. You can download it here. Needs the registered set to play.
Scarystein Pic
JJ sent me a pic from the upcoming add-on Scarystein. It's too large to put on this page but you can see it here.
July 12: BJ Sprites
Zach Higgins has sent a set of 8 BJ sprites for use with the multiplayer game. There's only the standing ones but they look good. Here's the first of them...
You can download all of them here.
Blitzkrieg News/Pic
Zach Higgins has started on a new add-on called 'The Blitzkrieg' (this is only the working title - it will more than likely be changed soon). Modifications made so far are basic as Zach is concentrating on levels this time. Three have been made so far. A demo may be released at the ten level mark. Here are some early screenshots.
July 11: Mazestein3D Updated
JJ has released an updated version of 'Mazestein3D'. There are now 10 levels - 9 are large mazes and the other one (the 4th) is a large open level with several bosses. Includes the new BJ and Boss from the original version. Download it here. Needs the registered set to play.
Patrick Grey's Funpack Updated
Patrick's Funpack now includes 'Hitler's Attack', as well as his 4 earlier sets. You can get it here.
July 10: Uploading Problems
During the last couple days I've had problems uploading files to the Dome server (very slow loading times). It seems to be OK now and most of the backlog resulting from it has now been posted.
Zero Hour: Phase II (Final) Released
Martin Krysiak has released the final version of his 'Zero Hour' TC. There are now 19 levels, more new graphics and the Death Knight added. Martin would like to thank Kuki, Brian Rowan, MCS, Steve, Parafriction, Zach and others who helped out. You can get it here.
Cheats/Extras Section
Most of the broken links in this section have now been fixed. 'The Master's Guide to Wolf 3D' in particular, is now available again. You can access the page here.
Hitler's Attack (v1.0) Released
Three level demo version of Patrick Grey's first TC. Eventually there will be 60 levels. No new graphics yet but there are ceiling colour and episode name changes. Available here.
Sam Feichter/Doom And Wolf
Here's the latest news from Sam:
"Ok, let's get right down to the point.
I am done with a new project, The Castle of Doom (Nothing to do with the Doom series), but, I am NOT releasing it until the 2nd episode of Gorenstein 2 is completed. The 2nd episode, The SS Headquarters, will be a step up in difficulty. Therefore, it goes up, until finally, the final episode, in the hardest adventure in Gorenstein 2, Castle Gorenstein.
Sam
(Also, after Gorenstein 2, episode 2 is done, I will be going back to DooM for a couple months, then back to wolf for Episode 3. This sounds too much like Star Wars.)".
July 7: Encounter Released
Sixty levels from Patrick Grey made with the creator program. The level design is obviously fairly predictable but the quality is reasonable. Bosses have been kept to a minimum. You can download it here. Needs the registered set to play.
Mazestein3D Released
Three new levels, and a new BJ and Boss from JJ. There are 2 large mazes, plus a third level where you meet BJ. Download it here. Needs the registered set to play.
CounterWolf Released
Sent in by A. Nonymous, this TC dates from last year. I'm not sure who made it. There are twenty new levels plus many new wall designs, other graphics, source code changes and title screen. Quite effective, and difficult to play at times!! Here's a pic I made from the opening level...
You can download it here.
July 6: New Wolf3D Yahoo Club
This new Wolf3D Club on Yahoo Groups is run by Adam Davison. Here is its banner.
Wolf Extra Special Version
There's a special version of Paal Olstad's 'Wolf-Extra'. It has 24 levels, and although they come from the original, there's 4 keys this time and a new EXE. You can get it from Poet's Wolfenstein Page. For copyright reasons, Paal has left out the original AUDIO files which you have to supply from the registered set.
Cheats/Extras Section Updated
This section has now been updated to include things like screensavers, maps and midi files etc. It's at Cheats/Extras. I know some of the links to other sites don't work at the moment. Any still not working in a few days will be removed.
July 4: Domination: Special Edition Posted
This version of Barry Christian's 3rd set was sent in by A. Nonymous. It's the 'Special Edition' and has 28 consecutive levels, a changed music order and a new title screen. You can download it here.
July 3: Patrick Grey's Wolf-3D and Spear Funpack!!!
This zip contains Patrick's four sets he's made for Wolf-3d/Spear. The sets are:
Hitler's Resurrection (Wolf-3d)
Trickstein (Wolf-3d)
Hitler's Worst Hour (Wolf-3d)
Ultimate-Evil (Spear)
All 4 sets have 5 new levels, and need the corresponding registered set to play. This means you have 20 new levels!! You can get 'Patrick Grey's Funpack' here.
July 1: Ultimate-Evil Released
This is Patrick Grey's fourth set of maps but this time they're for Spear. There are four normal levels, plus a difficult to find secret level. They're not that large but are well designed. You can get it here. Needs the registered Spear set to play.
JJStein - Act IV: Dungeons Of Death Released
This latest shareware v1.4 set by JJ has no totally new maps but level one has been modified and there's many new guards. There's a lot of graffiti and beware of the SS - one of them is not who he seems! All files are included. You can download it here.