::: WELCOME TO THE WOLFENSTEIN 3D DOME! :::
Wolfenstein 3-D News - maintained by Brian
News Archive
MAR - APR 2002
APR 2002
April 30: Berlin Express Pics
Harry Mass Senior's next TC will be called 'Berlin Express'. Many of the levels have already been completed and there's a lot of very good effects added. Here's a pic from the opening level.
There are more pics here.
April 29: Challenger 3D New Website
This new website is by John Lewandowski and is dedicated to his upcoming set 'Challenger 3D'. There is a trial (one new level) version available. You can access the site here.
April 28: Coding Basics Section Updated
Two new items have been added to the Coding Basics page. They were submitted by Kyle and are 'Changing the speed of the Fake Hitler Flame Thrower' and 'How to get no score if you use debug cheats'.
More Pathways Into Darkness Info
Here's some more features added to the upcoming TC 'Pathways Into Darkness'.
4 keys
Land mines
A NEW THING THAT HAS NEVER BEEN SEEN IN WOLF3D... AN INVISIBILITY ITEM!!! (That's right when you get this the bad guys can't see you.)
Wolfbat Released
Fred Kenny has released another set of graphics for his WolfUSA set of levels (the new levels are on episode three, but all other episodes have some alterations done by Fred, particularly episode one). As the title suggests, there are bats - they seem to be everywhere and come in many sizes. There are also many new vivid wall designs and some other object changes. You can download it here. Requires the full Wolf3D to play.
April 27: Sound support on Windows XP
I received this email from John Burnett concerning Wolf3D sound support on Windows XP:
"I've just upgraded from Windows 2000 to Windows XP Professional today (Fresh Installation, not an Upgrade) on same computer which uses Avance AC '97 Audio for Via Audio Controller on the mainboard. I discovered that Wolf3d now supports this, I can hear anything including music under WinXP DOS shell..
I played a TC called The Tower for testing, it started the music throught the speaker. I checked sound in the menu - it showed up - and it WORKS! with Windows XP without any problems. The Windows 2000 seem failed when I played Wolfenstein 3d.
Like I said about BIOS setup - To make sure Sound Blaster is enabled and configure the IRQ to 9 or 10, Address to 220 and DMA to 1 in BIOS setup, During Boot, the IRQ shows 5 instead of 9 on Mutlimedia line.
I hope that you all will find Windows XP could do this. (I've not tested it yet on Windows XP Home Edition yet, but it will work too if so). Any kind of Wolfenstein 3D including Add-on's and Total Conversion's will work with Windows XP. This Windows XP has emulated soundblaster built-in..
John Burnett"
Thanks John, for the above info. And here's a reply to the above from Peter Johansson:
"Really like John's path finding, and such guys need more help.
The best is really, ftp://download.intel.com/design/, leads to Intel's knowhow /design doc site. It's the instructions followed by computer manufacturers / the core of PC development. And not extremely difficult.
Only one remark on "This Windows XP has emulated soundblaster built-in"
The soundblaster Technology is hardware implemented technology, Microsoft as under heavy sanctions by US courts are now not permitted to suppress any other technology.
Ms have essentially never invented or constructed any essential computer tech, just bias'd on the fast development of mass produced hardware / microelectronics in recent years."
GenRTCW Help Wanted
Here's an email concerning 'GenRTCW':
"The project GenRTCW, with it's goal to bring back classic Wolf3D in Return to Castle Wolfenstein has made good progress. We found a way to stay legal without any copyright breakings of the classic game.
But we need more people in our team, we need urgently people who can help on coding on the RTCW Mod source, and we need people who can model 3d things. If you are the one, please contact me at genrtcw@chefmail.de".
Here's a pic from the project. Click on it for a bigger pic.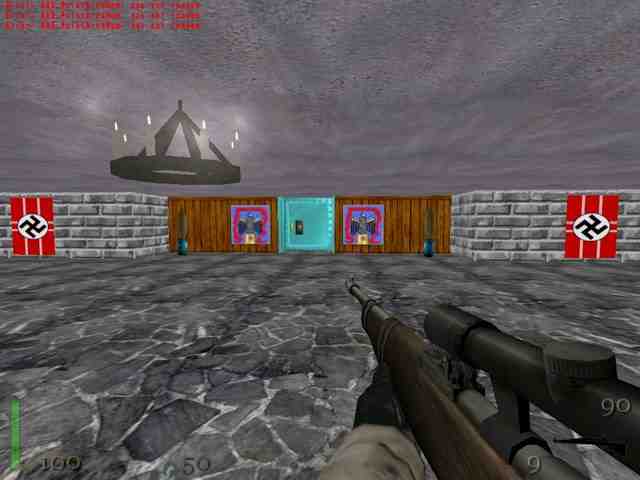 James Ingham Email Address Change
James Ingham tells me his e-mail address has changed to webmaster@wolf3dgalaxy.zzn.com. It's just temporary for now.
Area 51 News Update
Progress on 'Area 51' is coming along really smooth thus far, including a computer responding door and a new status bar. Here's a pic that author Luke Strauman sent me. There are more pics here.
April 23: Countdown To Disaster Released
Gary Ragland has released 'Countdown To Disaster'. The storyline is the same as 'Wolf 3D - Episode Six - Confrontation'. There are 13 normal levels, plus a Boss and 2 secret levels. As is usual from Gary, they are of high quality - and they are quite extensive. There are many graphics imported from 'Spear' and also some source code changes such as a different music order and two new keys. A very good set overall which you can download here. Needs the full version of 'Wolf 3D' to play.
Help Required
Here's an email requesting help from Kyle:
"Is there an experienced source code editor who knows how to add a Godmode Artefact, and a Transporter? (like in sod 2)".
If anyone can help with the above, please email Kyle at Wolf3dkyle@aol.com.
Demo Pic
JJ sent me the following pic from an upcoming demo. Click on it for a larger version.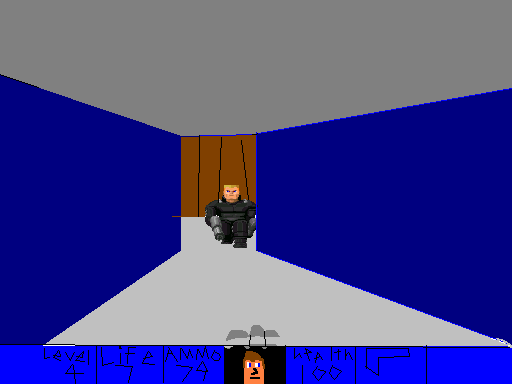 Revival Of Memories Info
'Revival Of Memories' is an upcoming TC that Parafriction and I are working on. MCS is also helping out too with source code changes. There's a lot more info here.
JJStein - Act II Released
JJ's second release is for shareware version 1.0, but all files are included in the zip. I just updated this set and there are now six new levels, though most are not that large, and some new graphics not seen elsewhere. You can download it here.
April 20: James' Wolf3D Galaxy Back Online
The James Ingham site is back online at James' Wolfenstein 3D Galaxy. Some pages are not working yet, but James hopes to update it over the weekend.
April 17: JJStein Released
Here's a new set released by JJ called 'JJStein'. There's five new levels, and although they're not very large - there's a number of new graphics not seen before. JJ is just 11 years old. You can get it here.
Pathways Into Darkness Info
Here's an email I received from Edward regarding his upcoming set 'Pathways Into Darkness':
"I (Edward) am starting an add-on called "Pathways Into Darkness". It has a lot of code changes:
New menu color
New menu text color
New menu text Ex: New game is now start path
Read this! added
Blood splatters
New "quit" remarks
BIG: Guards smoke cigarettes and when they see you they drop them on the floor. (Like in West Wall with the chairs!)
SS with needle gun
The demo will be done in one to two weeks."
Thanks Edward for the above info. Brian.
Raw Meat Pics
Ryan Steinbruner sent me a set of pics from his upcoming add-on 'Raw Meat'. One is shown below, and you can see the rest here.
Haunted House Nearly Done
Codetech tells me that a 'Haunted House' demo will be released shortly (probably next week). There's also news of a new project - the title has not been decided yet - but the story is something like this: You're onboard a huge spacecraft that has an ability to create a gate to another dimension...Your calculations were wrong and you end up somewhere unexpected... that's where everything starts to go wrong...
It will include at least the following features:
Reloadable weapons (also in Haunted House)
Weapons heat up (some of them)
At least 10 weapons (weight limit)
Weight limit
Your armor, weapon, bullets, etc... consume your energy (not health), and you can throw stuff away to make it easier to walk
Inventory (Also in Haunted House)
+ more to come
These features may/may not be done:
Own buddies to help you fight the alien scum
Aliens attack the closest one you or your buddies
Buddies also have a variety of weapons (machinegun, pistol, grenade...)
"Facehuggers" seen in alien movies! :D
April 14: Heaven And Hell/New Tutorials Section
Luke Strauman has added a coding/tutorials section to his site. It's at Wolf 3D Heaven And Hell.
Project: Weltuntergang Updated
An updated version of Project: Weltuntergang has been released by Kuki. This fixes some bugs in the maps and an end screen in the earlier version, and has a larger 'read me' file. There is also an alternative Wolf3-D.exe file which plays better on newer comps. For those who already have the TC, there is an update with just the new files here. Kuki also sent me an email regarding his upcoming TC 'Silent Assault'. As it's pretty large, I've posted it here.
MCS' Coding Tips!
MCS has a new section on the AreyeP/MCS Site called MCS' Coding Tips. It has some lesser known information not generally found on other tutorial sites. As well as tutorials, there's also info on compiling the code.
Email From Ripper
Ripper (of Chaos-Software) sent me the following email:
"I'm the only active member of Chaos-Software right now and after five months of inactivity I've begun to work on our project again. The result is a public test version including the following features:
Fullscreen mode
Lightshading (based on FLO's lightshading algorithms)
Respawning (5th difficult level)
Floor and ceiling textures
Star sky with a moon
Snow and rain
The maps don't really fit to the engine (they are the one's of Operation Zusammenkunft) but this packages' intention is just to show the world a small piece of what is possible ;)
I'd be very happy, if you could mention something about this on your news page and refer to our site: http://www.chaos-software.org.
There the test version is available for download :)
Thanks, greets and enjoy this test version ;D
Ripper"
Thanks Ripper for the above info - Brian.
April 13: Monthly Dome Award Announced
This months Dome Award has gone to Jack Ryerson for his outstanding TC 'Chemical Warfare'.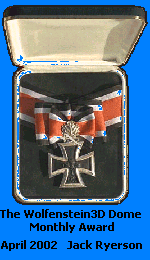 Ryan de Haast News
Here's an email I received from Ryan de Haast.
"Hello everyone - firstly, it will be sometime before my site is updated and fully running.
Secondly, the features for my next up and coming add-on called "Double Trouble" are:
Spear of Destiny engine
Collapsable Columns
New Enemies (Forest Guard; Aero drone clone)
New bosses
21 New levels
New graphics
New doors + door frames
6 New keys
New Weapons
Much more...(Still busy with)
Thirdly, I'm currently busy with the graphics and will be starting with the coding as soon as possible, here's how far I am with the graphics:
Weapons - 100%
Enemies - 10%
Sprites - 12%
Walls - 10%
Menu Graphics - 2%
Fourthly, a friend of mine, that goes by the name of Chris Waugh has started his first add-on called the "German Invasion". Here's the basic storyline in it:
It's the 1940's and Churchill has been captured by the SS. Your mission as Jack Micheals is to destroy and wipe out the underground bunker of the Gestapo and get Churchill out of there before the Germans take over Britain."
Thanks Ryan for the above info. Ryan's site is the Wolfenstein Cabin.
April 7: Chemical Warfare Released
Jack Ryerson has released his TC 'Chemical Warfare'. There are more than 40 very well designed levels which loosely follow the plot of episode four. Some graphics are from other TC's and there are many source code changes, but 'Chemical Warfare' retains the atmosphere of the original game very well. You can download it here.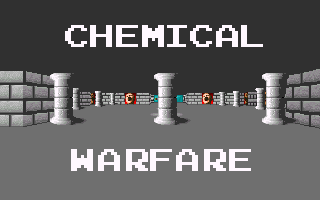 Gary Ragland/Upcoming TC
Gary Ragland sent me the following info on his upcoming TC.
"It's going to have 13 levels, plus a boss level (featuring The General), and 2 *really* well-hidden secret levels. Its sort of like what 'Countdown To Disaster' was supposed to be, just a little less grandiose. All I did with the new EXE was allow for continuous level flow, 4 keys, and changed ceiling colors, music order and par times... nothing fancy.
One thing a little different here is that the levels are HUGE (almost all go for the full 64x64) ... helped out by the use of 2 more keys. Most of my previous levels were pretty compact, even on 'Schabbs 2000', so it's a slight change of pace. One of 'em took me over 10:00 to beat... and I was the one who made it! Other than that, it's just a regular 14-level add-on with its own EXE.
I'm finished with everything except one regular level, and the two secret levels; I should definitely be done by the end of April. I sent Chokster the levels for a little testing."
Thanks Gary for the above info, and good luck with the TC!!
Jack's WOLF-3D PAGE Now Online
Back with Jack Ryerson, his new site is now up and running. It look's good, there's many sections, and is called Jack's WOLF-3D PAGE.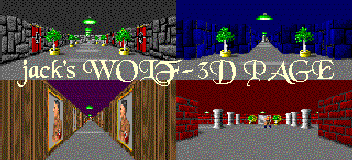 Help Wanted
Here's a request I received for source code help from Ryan Whooley.
"I am looking for an experienced source code editor. If you think you are up to it, please email me at bigboss_liquid@hotmail.com."
Now Or Never Updated
Harry Mass Senior has released an updated version of Now Or Never!! For those who already have the original version, there's a patch here.
April 4: PG's Wolf 3D Site Closed
Patrick Gray tells me his site on Multimania has been closed down. Patrick has restored part of it on the old Geocities server at PG's Wolf 3D.
More Area 51 Pics
Here are 2 more pics that Luke Strauman sent me from his upcoming TC 'Area 51'.
Spear Fan Club Closing
Bobby Bucksnort is closing down the Spear Yahoo Club (Group). Since the migration to Yahoo Groups there had been many difficulties with Yahoo and they failed to iron out the problems. Bobby said "People have posted at the club and their messages have not been put on the board. I have posted several myself and they were not put up. I am thinking about a message board or other possible ideas."
April 2: Wolf3D Texture Library
Steve Walley has started a 'Wolfenstein 3D Texture Library'. It has only very limited content at the moment, but it's a small taste of what's to come.
Steve hopes to add a range of tutorials and freely available pre made graphics to it over time so that it becomes a decent resource for those looking to move away from the original Wolf graphics (thereby helping to escape the attention of id software should people aspire to make a 'total conversion').
The Texture Library is located at MCS' and Steve's website http://www.areyep.com.
MAR 2002
March 31: Dome Wallpaper Contest
Here (at last) are the results of the 'Dome Wallpaper Contest'. Thanks to Parafriction, Steve and others who helped in deciding the results. Congratulations to the winners, and thanks to everyone for participating. As stated in the rules, all entries will remain available on the 'contests' page.
1. Chad Allard - #3
2. James Ingham - #7
3. James Snee - #11
4. Chad Allard - #4
5. Kuki - #19
Chad receives a video of Hitler's Third Reich: Blitzkrieg over Poland and the Wolfenstein 3D Hintbook. James Ingham and James Snee receive runners-up prizes of the Wolfenstein 3D Hintbook. The wallpapers are not being shown here as it would increase downloading times significantly, but can be seen on our contests page. They may take some time to load.
Raw Meat Pic
Ryan Steinbruner sent me the title screen from his upcoming add-on 'Raw Meat'. It should be released within a week.
Loading Times
There have been a number of complaints regarding the loading times of Dome pages, and to help reduce them the 'seasons greetings...' message is being removed. This was found to increase loading times considerably. I have already removed it from several pages, including this one and the index page.
March 30: Area 51 Pic
Luke Strauman sent me the following pics from his upcoming TC 'Area 51'.
March 29: Now Or Never!! Released
Harry Mass Senior has released Now Or Never!! There are six new levels, including the secret one. There are a number of graphics, sounds and source code changes. From what I played thus far it looks a pretty good set.
Zach's Site Updated
Zach Higgins Projekt: Vertilgung site has been revamped with a brand new look. Also, here's an email I received from Zach...
"Here's an update on 'Projekt Vertilgung': There are only a few levels to go and graphics are basically complete. Just some touching up here and there to do. Sounds are a different matter. Right now all I really need is a glass breaking sound (that I don't have to edit because neither James or I have the ability or software to do it ourselves.)"
If anyone wants to help out, Zach's email is WolfenDude87@aol.com.
Icon Set Released
Peter Johansson has sent me a set of Wolf3D related icons. You can get them here. Here's just a few of them - there are many others included in the set.
This set was updated Mar 29 11.00hrs (GMT), and now has 8 extra icons. (61 in total).
March 28: Ryan de Haast update
Ryan de Haast has started a new add-on called 'Double Trouble'. Also, Ryan is redoing his new site Wolfenstein Cabin as is it taking a while to load. Some of the graphics will be removed and the layout will be changed a little. Ryan's earlier site 'Rising Evil' will be closed down shortly, so for those who have links to it - please update them.
General's Clone Released
This is Kyle's third set and this time there are quite a number of source code changes, including 200 health/150 ammo, 2 new keys, deathcams removed and changed music. There are also ten new levels, plus some new graphics and sounds. I only played the first level thus far and it's quite extensive and has lots of mutants. You can download it here.
Noah's Ark Editor
Ryan Steinbruner tells me he's found a program called 'Noah's Ark' that lets you edit ceiling and floor textures. He'll be posting it on his site at Gamers World Wide.
March 26: Wolf Reborn
Zach Higgins has released an alternative set of graphics and sounds for the full version called Wolf Reborn, which is ideal for map sets that don't come with new vswap/audio files. Some come from 'Spear Resurrection' and 'Totengraeber'. Others are Zach's own work and one is from Parafriction's 'Final Solution'. You have to supply the maps. I used my own Wolfbel2 maps and they came out well - the original atmosphere is still there.
Wolfenstein Cabin Opened
Ryan de Haast has moved his site to a new url called the Wolfenstein Cabin. Here's the affiliate button and logo for the new site...
March 23: Soldier Of Destiny Pic
Patrick Gray sent me the following title screen from the upcoming TC 'Soldier Of Destiny'. Patrick is working on the graphics, but also involved in the project is Ryan Steinbruner (graphics and source code - Ryan also made the title screen pic) and Ariel Castañares (level maps).
Die Hard Wolfers Back
Die Hard Wolfers has finally migrated to Yahoo Groups. It's now at Die Hard Wolfers.
Bucksnort Site Revamp
Bobby Bucksnort is revamping the 'John Bucksnort Wolf 3D Page' and is now called The Mutant Co Ltd. This will take some time to complete but a new front page is already done. Here's the new logo.
March 19: Gameboy Advance Wolf3D Preview
Ken Caron tells me 'ign.com' has a preview of Wolf3D for the Gameboy Advance. Just checked it out and they like it a lot!!
March 17: Christmas Of Arielus
Ten new maps by Ariel Castañares and graphics are from Xmas Wolf in this shareware set just released. Again, the levels are pretty good and utilize the graphics well. Don't miss the secret level because it's best of the bunch. You can get it here. All files are included.
Ryan Steinbruner New Website
Ryan Steinbruner has a new website. There's a long list of links and you can download a number of files, including his 'Pukenstein' add-on. It's called Gamers World Wide.
March 12: Another Arielus
Ariel Castañares has sent me another 'Arielus'. This one is for Wolf 3D and has sixty new levels. Made between 1996 - 1998, there's original graphics this time. The levels are of a high standard and fans who prefer the atmosphere of the original game will particularly like this one. You can get it here.
If you want to contact Ariel about the game, his email is at spaceraker@hotmail.com.
Yahoo Clubs To Groups Update
Virtually all the Yahoo Clubs listed in our links section have now migrated to Yahoo Groups. The only one still 'migrating' is DHW. All changed links have been updated. Was the change worth it? I'm only lukewarm to it. The new features are nice but the extra ads can get annoying.
March 10: Quake 1 Only Is Back
After seemingly taking forever, 'Quake 1 Only Club' has finally completed its migration to Yahoo Groups and seems to be working normally. The new url is Quake 1 Only.
Wolf 3D Map Gifs
After a number of requests, I've made available map gifs for all sixty levels of Wolfenstein 3D. They can be viewed individually, or downloaded as a complete set. They are available at Wolfenstein3D Maps. There is also a companion page for Spear/Lost Episode Maps.
Missing In Action Released
This six level demo version of Missing in Action is by David Nevin and has plenty of new graphics, sounds and a new title screen. David will be releasing a final version with even more changes later.
Gameboy Advance Conversion
There's news on the Wolfenstein 3D conversion to the "Game Boy Advance" console at ebgames. Thanks to Quinnsey for providing this info.
March 8: More From Sam
Here's another email from Sam Feichter:
" Hey All!
I would like to tell you all that March 17th is my birthday! I will be 15 (Hell yes!). (Happy Birthday to me....). Well, I have been busy, and I will be for a couple more months, maybe until the end of the school year.
So please don't bug me AS much.
Sam".
Yahoo Clubs/Groups Migration
Two of the Wolf3D Yahoo Clubs have now completed their migration to Yahoo Groups and now seem to be working normally. They are:
Two other clubs (Die Hard Wolfers/Quake 1 Only) are still 'migrating' and hopefully they will join Yahoo Groups soon.
March 4: Arielus Released
Ariel Castañares made Spear Of Destiny "Arielus" a couple years ago, and has now released it on the Wolf 3D scene. There's plenty of new cartoon type graphics (mostly not seen elsewhere), but the levels are pretty good too which is unusual for this fun type of set.
Here's some info that Ariel (who made the game) asked to be posted:
"Here I write a few details you asked for:
Creator: Norberto Ariel Castañares
Creator's home: Claypole, Buenos Aires, Argentina
Creation's name: Spear Of Destiny "Arielus"
Date of creation: From 1997 to 1998 (I finished it on the day of my birthday, which is on May 1st)
Tools used: MapEdit V4.? and WolfEdit V?.? (I don't remember the versions, but they're quite old)
Well, I think that's all the game's profile, but I must say something to the people who want to have and play my game: It's okay, it's all yours, I hope you like it, but if you take some of my graphics or even levels, please write down a note in your game just saying who they belong to, just letting other people know that you've taken those graphics or levels from Spear Of Destiny "Arielus".
If you want to contact Ariel about the game, his email is at spaceraker@hotmail.com.
You can download the game here.
PG's Wolf3D Site Moved
Patrick Gray tells me his PG's Wolf3D Site has moved. Also that Bravenet has closed down, so a few of the features that Patrick had on the old site are gone (i.e. counter, poll, newsletter, add-a-link). Hopefully though, the new site should solve the problems with Geocities bandwidth restrictions.
TROS Screenshot
Ryan Steinbruner has sent me the following pic from his upcoming TC 'TROS'...
Click on the image for a larger size pic.
March 2: Project: Weltuntergang Released
Kuki has released the final version of 'Project: Weltuntergang'. It now has six new episodes - each with a different theme - plus many graphics, sounds and source code changes. From what I played already, it looks like a pretty good set!! Get it here.
Dome Wallpaper Contest Closed
March has arrived and so has the closing date for entries to the Dome Wallpaper Contest. Many thanks to all those who participated. As stated on the contests page, entries will now be judged by a forum. Results will be published here when I get them.
March 2002 Dome Award
Kuki has won our monthly award for his work on the Project: Weltuntergang TC. Well deserved Kuki!!
James' Wolfenstein 3D Galaxy Back Online
Now on a new server, James' Wolfenstein 3D Galaxy is back online.
More On Sound Problems
Peter Johansson has replied to the following email sent in by John Burnett...
"I read the Wolf3d on WinXP about running the Wolf3d on Windows 9X including ME, let me talk about "Windows 2000/XP Unknown", I've been playing both Wolfenstein 3D and TC's on Windows 2000 without any problem for four months and I'm still playing. But It would not work with sound nor music under windows - if it will work depends specific of sound card what you have. My sound card brand is Avance AC '97 Audio for Via Audio Controller on mainboard and it doesn't support this by Wolf3d. I tried on windows 9(all) includes DOS 6.22, and it doesn't work either. I wish Id Software would update this game to work on all sound cards including new ones. WOLFENSTEIN 3D is number ONE in First Person Shooter Games than all of other games. I been playing Wolfenstein 3D since 1995.
My Other computer has a Sound Blaster Card installed and works with sound and music while playing. Not on new mainboard w/audio controller as above.
John Burnett"
Here is Peter's reply...
"RE wolf3d sound compatibility.
The program is written for the most advanced synthesizer technology out there, the Creative soundblaster.
This or an emulated soundblaster will work.
Don't think anyone is ready to rewrite the code for simpler synthesizer technology, and the remedy is simply... to avoid, as Intel named them "Baby ATX" motherboards, with very few system expansion slots and built in soundcards.
To be careful when buying laptops.
Go for at the least, a medium ATX boards (Mid Towers) with at least six expansion / PCI slots so you can put in, a preferrably, real Soundblaster and some other goodies'n stuff, a raid hdd card is highly recommended as one other instance.
There is no problem to use several different soundcards if so.
The experience of running the Roland GM/GS (included in Creative SB PCI and up) at the Blaster synthesizer is close to irreplacable.
And, don't waste too much money on the "OS", Win32/NT labels.
P.J."
Thanks Peter for the above info. And now a reply from John Burnett...
"Thanks to Peter, I suspected that Sound Blaster is there when I check it in BIOS setup. You called "baby ATX mainboard", I know it means, that one I called "Micro ATX mainboard" To make sure Sound Blaster is enbled and configure the IRQ to 9 or 10, Address to 220 and DMA to 1 in BIOS setup, During Boot, the IRQ shows 5 instead of 9 on Mutlimedia line. I'm Laptop Hater for long time. Because it somehow has limited hardware on those laptop. I work on Computer Place in Kansas. recommand that you to get away any MATX (BATX} with Audio builtin and Grab Real Sound Card like Creative which it has real SB. I knew it was weird on one of those mainboard that had a few expansion slots, But more new ATX mainboards like P4 and Athlon XP now have Audio built-in around everywhere I noticed, This might have 5 or 6 PCI slots, AGP port and Audio controller built-in. It can disable by configure them in BIOS setup and add Sound card to work this wolfenstein 3d depends what kind of brand on sound card has like Peter said.
John Burnett
Wolfenstein 3d favorite".